Hindu Wedding
Marriages, according to Hindu beliefs are made in heaven, and once you are married, the bond is supposed to last for seven lifetimes. It is considered to be a turning point in an individual's life as he enters the second important phase or ashram of his life – the 'Garhasthyaashram'. A lot of importance is associated with marriages in Hinduism as it is considered to be one of the most important duties of a man's life. Through marriage he is paying his debt to his forefathers, by procreating children and ensuring continuation of his family's lineage. Hindu weddings are long processes, with various rituals that may take days to be executed. Every single custom and practice in a wedding ceremony has deep philosophical and spiritual significance. Throughout the world the Hindus adhere to these set of rituals and continue on the traditions of marriage that is unique amongst those in the world.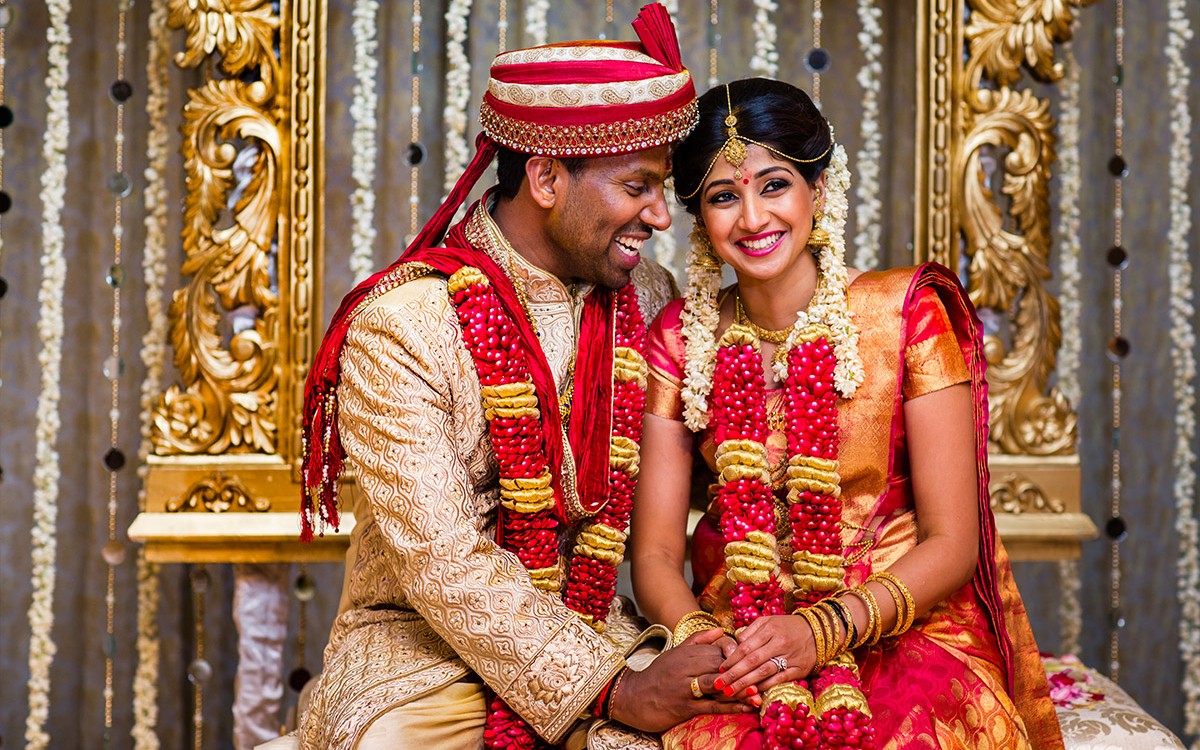 Types of Weddings
According to Hindu sacred texts like Asvalayana Garhyasutra and Atharvaveda, eight different types of marriages are recognized by the ancient Hindu society. Four of them were categorized as 'Prashasta' or proper marriages conducted by following appropriate religious customs. The remaining four were considered as 'Aprashasta', which referred to inappropriate unions between man and woman that did not follow any Vedic or religious ritual.
The various types of Prashasta marriages are as follows –
Brahma– It is the marriage that takes place upon receiving mutual consent from both bride and groom's families. It is considered the most appropriate form of marriage in Hindu society.
Daiva – The daughter is dressed up with fine clothes and ornaments and is offered as a sacrifice fee to the Deity. This type of weddings was prevalent during yajna sacrifices in ancient times.
Arsha – The father gives away his daughter in exchange for a cow and a bull from the groom's family. The groom takes an oath to effectuate his commitment towards the bride and her family.
Prajapatya – Here the couple get married by uttering Sanskrit verses promising eternal love in presence of their families. This is similar to a modern day civil ceremony where neither priest nor religious rites are performed.
The various types of Aprashasta marriages are –
Gandharva – The bride and the groom either start living together as a couple out of love and mutual consent or get married without a formal ceremony as well as without the consent of their families.
Asura – In this type of marriage, the bride's father has been intimidated or bribed by the groom or his family into giving his consent to giving up his daughter for marriage.
Rakshasha – In these types of marriage the bride is forced into marrying against her consent.
Paisacha – This is the most brutal of all types of marriages, where the groom forces himself upon the bride first and then accepts her as his bride.
The last two types of marriages were not only indecorous but also religiously impermissible.
Hindu marriages are based on age old traditions that have been translated into laws. According to traditions, a Hindu marriage cannot be reversed and is irrevocable. The modern day Hindu Marriage laws prohibit Polygamy or Polyandry. In India as well as most Hindu cultures across the world, arranged marriages are still the most preferred way of getting hitched. Consent and happiness of the families are of utmost important in Hindu culture as the marriage not only union of two souls, but also union of two families.