Orient Supermarket
(0 Reviews)
Orient Supermarket
Orient Supermarket is the best shopping point for all your imported household items and Western Groceries. We are the privately own exclusive importe items supermarket in Chur.
Orient Supermarket have thousands of unique brands in foods, fruits, cooking ingredients, snacks, beverages, dog foods, dairy products, Chocolates, Wines, and also confectioneries. And cosmetics only handpick by the shopping experts. Our brands are widely more demanded, affordable and available always. In our store which is never found in any other departmental stores and also supermarkets in Chur or around switzerland.
We have around 1500 unique customers including 100s of foreigner every day. World's top branded imported products available in most moderate cost is our significant point of interest while comparing with other supermarkt in Chur. Visit us Now !! So you can Get Unbelievable Offer on Every Purchase !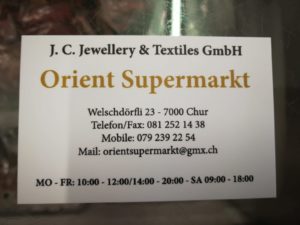 For your reference you can do your montly purchase give us a call order for it we will deliver to your home. you can order for any no of kg and any no of packets. It is known to be one of the best organic food stores or Organic Depot or Pachai kai karigal.
Grains
Boiled Rice – 5-7 kg (for White rice)
Idli Rice – 5 kg (for Idli/Dosa batter, Adai batter etc.)
Raw Rice – 2 kg (for Aapam & Pongal)
Basmati Rice – 2 kg (for Biryani & Pulao)
Brown Rice or Red Rice or Black Rice (any one) – 1 kg
Wheat Flour (Atta) – 2 kg
Maida – 1/2 kg
Rava – 1/2 kg (for Upma, Rava Dosa)
Ragi Flour – 1/2 kg
Rice Flour – 1 kg
Millet Varieties (Little Millet, Foxtail Millet, Barnyard Millet, Kodo Millet or Pearl Millet) – 1/2 kg + 1/2 kg (any two)
Pasta – 1/2 kg (any 1 or 2 shapes)
Noodles – 1 family pack
Pressed Rice (Aval, Poha) – 1/2 kg (for Upma)
Sago (Javarisi, Sabudhana) – 1/2 kg (for Payasam or Upma)
Gram Flour (Besan, Kadalai Maavu) – 1/4 kg (for Bajji or Dhokla)
Vermicelli – 1/2 kg (for Upma, Payasam)
Instant Rice Sevai – 1/2 kg
Broken Wheat (Samba Godhumai, Lapsi) – 1/2 kg (for upma)
Pulses
Urad Dal – 2 kg
Toor Dal – 1 kg
Moong Dal – 1 kg
Channa Dal – 1/2 kg
Chickpeas – 1/2 kg
Dried Green Peas – 1/2 kg
Green Gram or Black Chickpeas (any one) – 1/4 kg (sidedish for puttu)
Black Eye Beans, Red Kidney Beans, Whole Masoor, Whole Urad, Double Beans, Green Peas Dal, Masoor Dal or Red Chowli (any two) – 1/4 kg each
Frozen Greenpeas – 1 pack
Frozen Corn – 1 pack
Oils
Sunflower Oil or Vegetable Oil – 1 L (for regular cooking and frying)
Rice Bran Oil or Groundnut Oil – 1 L (for regular cooking and frying)
Sesame Oil – 1/2 L (for idlis and dosas)
Coconut Oil – 1/4 L (for traditional South Indian dishes)
Olive Oil – 1/4 L (for continental food and baking)
Ghee – 200 gms
Spices & Condiments​
Salt – 1 kg
Crystal Salt – 1 kg
Sugar – 1 kg
Jaggery – 1/4 kg
Palm Jaggery – 1/4 kg (or Naatu Chakkarai for making porridges)
Tea – 100 gms
Coffee – 100 gms
Health Drinks – 1 pack (if needed)
Chocolate Syrup/ Caramel Syrup / Strawberry Syrup – 1 bottle
Tamarind – 1/4 kg
Asafoetida – 1 box
Dry Red Chilies – 1/4 kg
Mustard Seeds – 100 gms
Cumin Seeds – 100 gms
Fennel Seeds – 100 gms
Fenugreek Seeds – 100 gms
Peppercons – 100gms
Poppy Seeds – 50 gms
Sesame Seeds (White or Black) – 50 gms
Carom Seeds – 50 gms
Dry Ginger – 50 gms
Cardamom – 25 gms
Cinnamom – 25 gms
Star anise – 1 small pack
Cloves – 1 small pack
Bay Leaf – 1 small pack
Papad & Vadagams – 1 or 2 packs
Pickle – 1 bottle
Ginger Garlic Paste – 1 pack
Turmeric Powder – 100 gms
Sambar Powder – 100 gms
Chicken Masala – 100 gms
Red Chili Powder – 200 gms
Coriander Powder – 200 gms
Garam Masala Powder – 100 gms
Black Pepper Powder – 50 gms
Cumin Powder – 50 gms
Idli Podi – 100 gms
Garlic Powder, Rasam Powder, Vathakuzhambu Paste etc. – if needed
Other Spice Mixes (Channa Masala, Pav Bhaji Masala, Gobi 65 Mix etc.) – if needed
Citric Acid, Nigella Seeds, Ajinomoto, Dry Ginger etc. – if needed
Soy Sauce – 1 bottle
Tomato Ketchup – 1 bottle
Chili Sauce – 1 bottle
Vineger – 1 bottle
Mayonnaise – 1 bottle
Jam – 1 bottle
Cheese Spread – 1 pack
Cheese Slices – 1 pack (for burger, sandwiches)
Cheese Block – 1 pack (for pizza, sandwiches)
Plain Curd or Flavored Yogurt – if needed
Butter – 200 gms
Paneer – 200 gms
Fresh Cream – 1 pack
Honey – 1 bottle
Nuts, Dry Fruits & Baking Items
Cashews – 50 gms
Raisins – 50 gms
Almonds – 50 gms
Dates – 100 gms
Peanuts – 100 gms
Other nuts (like walnuts, pista, etc.) – as needed
Other Dry Fruits (dried gooseberries, figs etc.) – as needed
Yeast – 1 box (for aapam and bread)
Baking Soda (Cooking Soda) – 1 small packet
Baking Powder – 1 small packet
Cocoa Powder – 1 small box
Vanilla Extract – 1 bottle
Condensed Milk – 1 tin
Snacks
Cereal Boxes – 2 (for instant breakfast options)
Bread – 2 packs (as needed like Sandwich Bread, Sweet Bread, Pav Buns, Burger Buns, Hotdog Buns, Pizza Base etc.)
Flavored Yogurt – if needed
Biscuits, Cakes and Cookies – as needed (I get around 8-10 packs)
Fried Packed Snacks – as needed (I buy 4-5 packs)
Popcorn Packs – 2
Cleaning Products
Dish Washing Bar or Liquid – 500 gms
Washing Machine Detergent – 1 kg
Bleach (for white clothes) – 1 bottle
Instant Starch – if needed
Fabric Blue, Fabric Softener, Cuff Cleaners etc. – if needed
Laundry Soap – 2 bars
Hand Wash Liquid – 1 bottle
Toilet Cleaner – 1 bottle
Floor Cleaner – 1 bottle
Glass Cleaner – 1 bottle
All purpose cleaner (or Soap Oil) – 1 bottle (to clean kitchen counter tops, tiles, sink etc.)
Room Spray – 1 bottle
Air Freshner for Bathroom – 1 or 2
Harpic Tablets – 1 pack
Garbage Bags – 2 packs
Broom, Mop, Cleaning Brushes – as needed
Pest Control – as needed (Mosquito Repellent, Buy Spray, Lines, Balls etc.)
Toiletries
Body Soap – 5 bars
Face Powder – 1 bottle
Deodorants – (mens and ladies) 1 each
Perfume – (mens and ladies) 1 each
Shampoo – 1 bottle
Conditioner – 1 bottle
Moisturizer or Body Lotion – 1 bottle
Sun Screen Lotion – 1 bottle
Hair Oil or Gel – 1 bottle
Toothpaste – 1
Toothbrush – if needed
Tongue Cleaner – if needed
Shaving Cream – 1 box
Shaving Razors – 1 pack
Hand Sanitizer – 1 bottle
Dettol – 1 bottle
Other Cosmetics – as needed
Sanitary Napkins – 1 pack
Toilet Paper Roll – 4 to 6 (or as needed)
Kitchen Roll – 1
Cotton Balls, Ear Buds – if needed
Other Disposables (If Needed)
Tissue Paper – 1 pack
Paper Plates – 1 pack
Paper Cups – 1 pack
Disposable Spoons – 1 pack
Aluminuim Foil – 1 Roll
Ziploc Bags – 1 pack
Toothpicks – 1 pack
Vegetables (To Buy Weekly)
Onion – 2 kg
Tomato – 2 kg
Small Onions – 1 kg
Garlic – 1/2 kg
Ginger – 1/2 kg
Green Chilies – 100 gms
Potatoes – 1 kg
Lemon – 3-5
Coriander Leaves – 1 bunch
Mint Leaves – 1 bunch
Curry Leaves – 1 bunch
Coconut – 2
Carrots – 1/2 kg
Other Vegetables – any 4 or 5 per week (about 1/2 kg each)
Fruits – any 3 or 4 varieties (about 1 kg each)
Miscellaneous
Batteries – if needed
Light Bulbs – if needed
Car Cleaners