AMS Satheesh Kadai
(0 Reviews)
AMS Satheesh Kadai
High street brands to exclusive speciality boutiques, Swiss shopping has something for everyone in AMS Satheesh Kadai. Shops are organise similarly throughout the country.
supermarket.
You will generally find smaller specialty shops in the older parts of town with larger stores and shopping centres on the outskirts and in newer parts of the city. Most neighbour hoods have their own supermarket.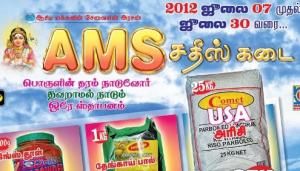 For your reference you can do your montly purchase give us a call order for it we will deliver to your home. you can order for any no of kg and any no of packets. It is known to be one of the best organic food stores or Organic Depot or Pachai kai karigal.
Sweetners
Palm Jaggery / Karupatti / Panai Vellam
"Organic Palm Sugar – 250gms Aluminum Packing
(Fine Powder, Certified Organic, FSSAI) "
Palm Candy Crystals – Panai Kalkandu
Palm Crystal Sugar – Panai Sarkarai
Coconut Palm Jaggery
Tropical Honey 1kg
Sukku Karupatti ( Pepper Ginger Palm Jaggery)
Rice
Black Kauvni Rice (Raw Rice)
Bamboo Rice Moongil Arisi (Raw Rice)
Mappillai Samba (Hand Pounded Red Color)
Ponni Boiled Rice
Poongar Boiled Rice(Hand Pound )
Ponni Boiled Rice(Hand Pound )
Kala Namak Rice
Navara Rice
Karunkuruvai Rice
Kattu Yanam Rice
Seeraga Samba (Raw Rice)
Pulses and Grains
Black Horsegram / Karuppu Kaanam Kollu
Organic Horsegram
Urad Dhal
Toor Dal
Moong Dal
Millets
Barnyard Millet / Jhangora /  Kuthiravaali / Odalu
Little Millet / Kutki / Samai / Sama / Same / Chama
Kodo Millet / Kodra / Varagu / Arikelu / Harka
Foxtail Millet / Kangni / Tenai /  Korra / Navane / Thinai
Finger Millet / Mandua / Kelvargu / Ragulu / Ragi / Koovarugu
Proso Millet / Barri / Panivaragu / Varigulu / Baragu
Sorghum / Jowar / Cholam / Jonna / Jola / Cholum
Red Sorghum
Irumbu Cholam
Pearl Millet / Bajra / Kattu or Nattu Kambu / Gantilu / Sajje
HYBRID Pearl Millet / Bajra / Kambu / Gantilu  Sajje
Flakes or Aval or Poha
Barnyard Millet / Jhangora /  Kuthiravaali / Odalu
Little Millet / Kutki / Samai / Sama / Same / Chama
Kodo Millet / Kodra / Varagu / Arikelu / Harka
Foxtail Millet / Kangni / Tenai /  Korra / Navane / Thinai
Finger Millet / Mandua / Kelvargu / Ragulu / Ragi / Koovarugu
Pearl Millet / Bajra / Kattu or Nattu Kambu / Gantilu / Sajje
Vermicelli or Sevai or Semiya
Wheat
Ragi Finger Millet
Kambu Bajra
Rice (boiled)
Tomoto vermicelli
Cholam Sorghum
Maize Jowar
Varagu barnyard
Spices
Desiccated coconut
Black Pepper
Organic Certified Turmeric -Stick
Organic Certified Turmeric -Stick Powder
Organic Certified Turmeric -Bulb
Organic Certified Turmeric -Bulb Powder
Kudampuli Tamarind Brindleberry / Garcinia Cambogia / Goraka
Coconut Copra(half cut)